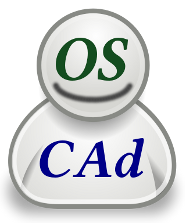 OSCAd, the Open Source Com­pli­ance Advi­sor is the online ver­sion of the OSLiC for enabling com­pa­nies and oth­er groups eas­i­er to assure that their guys act accord­ing to the Open Source Licens­es.
As an employ­ee of Deutsche Telekom AG and as Prin­ci­pal Open Source Advi­sor in the Telekom Open Source Program Office, I had the hon­or to devel­op and main­tain this tool for decades. The readme file in the GitHub repos­i­to­ry describes the goals in some­thing like this:
The abbre­vi­a­tion 'OSCAd' stands for [Telekom] Open Source Compli­ance Advisor. The file­name or pack­age name is 'oscad'. The respec­tive tool is the inter­ac­tive ver­sion of the Open Source License Compendi­um, and shall spec­i­fy how to use open-source soft­ware com­pli­ant­ly. In par­tic­u­lar, it shall …
sup­port open-source users to act accord­ing to the open-source license require­ments with­out hav­ing to become license experts them­selves
offer strong­ly reli­able and quick­ly acces­si­ble instruc­tions (to-do lists) on how to ful­fill the con­di­tions of an open-source license
The OSCAd is a web-based HTML fron­tend com­bined with a PHP back­end. This sys­tem deliv­ers use-case- and license-spe­cif­ic to-do lists whose exe­cu­tion would ful­fill the oblig­a­tions required by the respec­tive FOSS licens­es. Sub­se­quent­ly, OSLiC and OSCAd became a basis for OSCake.
---
And in what way is this …
… part of the over­ar­ch­ing top­ic FOSS Com­pli­ance? For ful­fill­ing the require­ments of FOSS licens­es, we have to con­sid­er spe­cif­ic indi­vid­ual cas­es as well as side effects — for soft­ware, pic­tures, or doc­u­ments. We should unhide trends and write guide­lines. Above all, how­ev­er, we must dri­ve for­ward the automa­tion of license ful­fill­ment, make our licens­ing knowl­edge freely avail­able, cast it into small­er tools, and bring it into larg­er sys­tems: Because FOSS thrives on free­dom through license ful­fill­ment, large and small. That's what also this arti­cle is about.
---